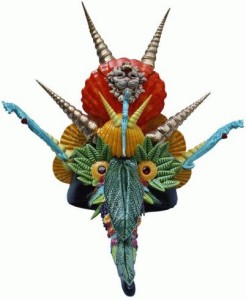 Transformation
Transformation is another major ingredient in my work. I create new forms by cutting and assembling out of ready-made moulds or original moulds. The exciting part is to transform the recognizable into the unrecognizable, for example, ornamental Christmas balls in Sleeping Beauty's castle and condoms used in the birth part of the triptych. In this way disposable articles are given a second lease on life yet remain unrecognizable.
Traveling
Traveling in other countries with different cultures provides me with a great deal of inspiration for my work. The further removed they are with regard to time, space and mentality, the better. During such trips I use my time in different ways to come up with ideas. It may be just looking at art in the broadest meaning of that word, the articles I took along or via emotions/fantasies which come to mind in specific places. Particularly Rajastaan in the northern part of India and its rich traditions and the past of Maharajas – the Indian fairs and festivals have opened up a new world to me.
Art projects/Artists
Various art projects such as Luna Luna, a project by Andre Heller, the Tarot garden by Niki de Saint Phalle in Italy, the gardens of the mailman Chevalier in France, the structures by Gaudi in Spain, the Rock garden by Nek Chand in India – I have visited them all (with the exception of Luna Luna). These projects were eye-openers for me because in contrast to most art – heavy and exalted – they served mainly as entertainment and at the same time not necessarily interfering with the content or dealing only with light and airy subject matter (the feelings and thoughts, for example in the work by Niki de Saint Phalle, are to be taken anything but lightly). This is what I also encounter in my own work. At first sight it seems airy and cheerful but behind it more often than not there lies a dim world.
Other similarities between many of these projects/artists and my own work concern color and use of form including the fondness for the material used in applied art (without hampering art itself), fighting against petty-mindedness and for the love of decoration.
Less is bore/ Art or kitsch
In as much as I work with exuberant forms and colors and material for applied art, and also use an abundance of gold and silver, this could be coined as kitsch particularly in the Netherlands. Kitsch has a negative connotation and is considered as lacking genuine sentiment or not being artistic enough. Another example is the so-called Jordanese windowsills, or the embroidered Night Watch. It is very short-sighted to dismiss as kitsch – without further contemplation – exuberant forms, colors and materials that shimmer. For me it signifies the point of departure, the purpose for which it was created and serves to reinforce the message. Much can probably be traced back to modernism as a standard which comprises a sober, modest and clear line without any sort of decoration in neutral shades. People such as Robert Venturi and Ettore Sotsass enter into the arena at this point and turn "less is more" into "less is bore"; capricious and exuberant forms, make their first entrance and are equipped with bold colors, materials and designs. Work that is certainly not to be considered kitsch.